Ljubljana Tourism
Meta Černoga
When we enter the Zlato runo (Golden Fleece) goldsmith's shop on Rimska cesta in Ljubljana, we are welcomed with a cheerful smile by Christoph Steidl Porenta, a master goldsmith, restorer of precious metals and the only master silversmith in Slovenia. His handmade rings, necklaces, brooches, earrings, goblets, swords, cutlery, liturgical objects and sculptures glitter on the shelves of his shop, which is actually more of a workshop. Trained as an industrial mechanic, he later learned goldsmithing techniques in the Benedictine monastery in Würzburg. He is known as an exceptional craftsman not only in Slovenia, but also throughout the world, for example, for the clock hands on the Munich Cathedral, the globe of the Technical Museum in Bonn, and numerous episcopal rings, crosses and chalices of church dignitaries from all over the world. "You see, my workshop is different, it is not like in the jewellers where gold is sold by the gram – here jewellery is made from start to finish. These are techniques that had been around for thousands of years before Christ – and nothing has changed significantly to this day," laughs the master, saying that you will not find a computer in his shop, and phones do not work well here either. He modestly says that he is well known to those interested in this field, having worked with both public and private institutions. Just now, for example, he has finished a relic for Brezje (Slovenia's national pilgrimage sanctuary). Some even come to his workshop from abroad. They make jewellery and fly back.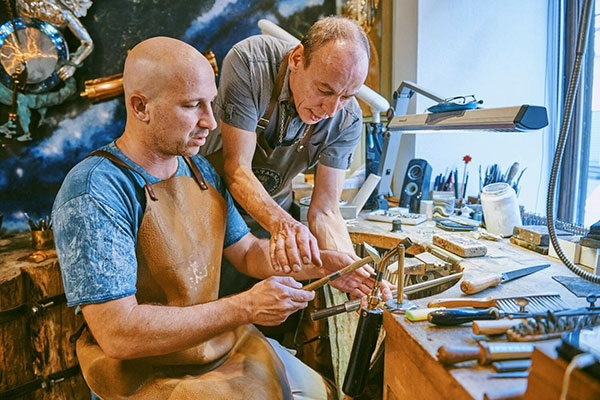 Photo by: Primož Lukežič
Silver is much cheaper
Most of the time, he makes jewellery from silver, because gold is an expensive thing. For comparison, he says that a kilo of silver currently costs around EUR 600, while the same amount of gold costs a staggering EUR 56,000. And that is also why we immediately decide to make our rings out of silver. Why do we need alloys, why do not we use pure gold or silver, he asks us, and then offers the answer himself: "You must have seen in the movies when they bite into a gold coin and say": 'Yes, this is gold.' Gold is quite soft, too soft for jewellery, pure gold would lose its shape and fall apart immediately. Silver is also soft, so they add copper to it. In the workshop we work exclusively with waste materials such as cutlery, gold coins, which have no numismatic value, and so on. We also use diamonds and brilliants that people do not want to have anymore because they are no longer in fashion, so we take the stone out and use it. I would feel bad if I was working with a material resulting in the deaths of people in the Amazon, when there is so much waste material that we will never run out." The workshop has all the things a goldsmith needs: different hammers, machines, large tables on which to forge, solder, polish, etc. We put our end of the silver in a bowl to melt it. "Remelting is how we get silver in a liquid state. We make a bar, then there is the long process of dissolving the borax, which sticks to the silver. A piece of gold must be put in the acid, but beware: only with brass tweezers that can go into the acid. When asked why the sulphuric acid is green, the master explains that it comes from the copper. "If you were to go into the acid with steel tweezers, you would damage the material," he explains again, and it quickly becomes clear to us that a goldsmith must also know chemistry very well, because he works with different materials and some go together and some do not.
"Just bang, bang…"
As the material we have obtained has a coarse structure, which may also contain air holes, it needs to be forged. We cut the bar and beat it with a hammer. "Go on, just bang, bang… And in between, spin and bang harder, even harder," he encourages us, and when he sees that we are not doing it right, he takes the hammer and starts forging professionally, so that we can see how it is really done and what the sound of hammering should be like. "Excellent!" he is satisfied. And we take the tweezers again, grab our silver, put it under water to cool it down, and then back into the acid with the brass tweezers. And then under water and back into the acid. It quickly becomes clear to us that this is far from a simple process. But we are only at the beginning. "Yes, people think you just buy some wire and make a ring. But if you do everything yourself, it is not that easy," nods the master, and invites us to a special machine, similar to the one used to make noodles. And then we roll our silver bar – just long enough to get the right shape and width. We put the bar back under the fire, then measure the size of the fingers on which we want to wear the ring to see how big the ring should be. Our ring is slowly progressing, the shape is already showing. We cut the wire with a saw, as if we were playing a violin, the master illustrates, and then the forging follows. "It is not stroking, it is forging," he laughs mischievously as we get to work and realise the power of rings. It quickly becomes clear why the event we have visited is called as it is. The rings soon light up and after an amazing manufacturing adventure, we proudly leave the pleasant goldsmith's shop while the master Christoph Steidl Porenta and his three apprentices get back to work.